The Deckhouse hosted a wonderful lunch on a perfect sunny day full of happy faces. Almost 120 of us made it along and all brought a great mood to cheer on our friends, family and colleagues as they accepted recognition for their years of service and contributions to Kindalin.
We spent a beautiful afternoon reflecting on our long history with these amazing professional ladies we know as friends. A video showcase of our time together stirred our memories, which we sealed with stunning crystal awards made especially for our Heart & Soul Team. We also created a limited edition book of memories that was presented by our founders Alison and Mark.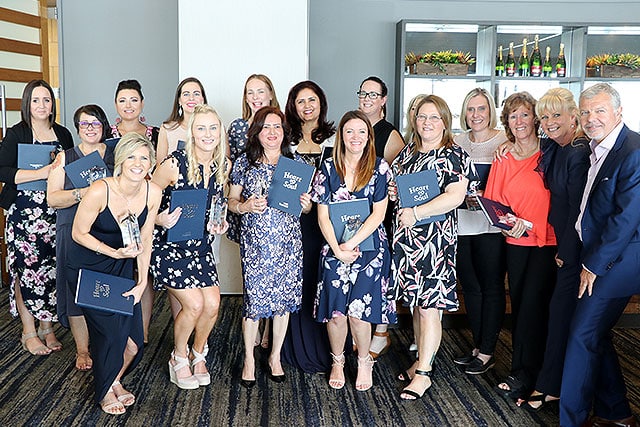 We took the occasion to honour and thank our first inductees into the Kindalin Hall of Fame. Miss Chantelle, Miss Debbie, Miss Melissa and Miss Simone have been with us since the very early days and have helped define the very the essence of Kindalin and what it means to be a part of our team. They continue to demonstrate the very high standards that Kindalin is well known for each and every day.
We heard from each inductee as they talked about why they have been so loyal, passionate and selfless. Tears met with laughter as we all reminisced over great memories from long ago.
The day was a brilliant testament to the strong connections between all of our team and their willingness to support and connect with one another. We love the family-feel amongst our amazing team.
Kindalin strives to create the best environment not just for our children, but for our team, where Educators have careers and grow and blossom not just as professionals, but as individuals and as part of a team.
This includes taking the time to celebrate in style, befitting the efforts, perseverance and dedication of our glorious team.
Miss Chantelle, Miss Debbie, Miss Melissa, Miss Simone, Miss Ali, Miss Amanda, Miss Ana, Miss Carla, Miss Cathy, Miss Courtney, Miss Debbie, Miss Hannah, Miss Kelly, Miss Larissa, Miss Lorraine, Miss Melissa, Miss Nicky, Miss Nikki, Miss Sharon, Miss Tracy…
You really are our Heart and Soul.